HSAS&F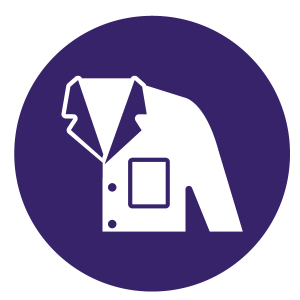 Supporting the technology used in healthcare, research and education.
Services
Scientific Instruments supports over 18,000 pieces of patient care, laboratory and research equipment spread across the greater Seattle area including the UW Medical Center, Harborview Medical Center, NW Hospital, Seattle Cancer Care Alliance, UW Physician's Neighborhood Clinics and a variety of other University, state, federal and other publicly funded agencies. 
Services Offered Include:
Technology Management: Our record keeping system tracks instruments throughout their complete life cycle including initial inspection, scheduled and unscheduled maintenance, recalls & safety alerts and final disposal.
Regulatory Compliance: Our records can be used to document compliance with TJC, CAP, CLEA, AABB, FDA, CMS or other accrediting agencies requirements for equipment maintenance.
Preventive Maintenance (PM): We can establish a scheduled maintenance program customized to meet your specific needs. Workorders are automatically generated at pre-determined intervals and our technicians will travel to your location to perform services.
Routine or Emergency Repairs: We can repair most equipment found in patient care, laboratory or office settings and have technicians on-call 24/7 in case you need service after hours.
Design & Prototype: We can take your ideas and convert them into fully functional prototypes or custom devices.
Mission, Vision & Values
Our Mission:
Supporting the technology used in healthcare, research and education.
Our Vision:
An environment where technology safely and reliably assists our clinicians, researchers, faculty, staff members and students in their quest for excellence.
Our Values:
Excellence: We are uncompromising in safety, quality and accuracy in all that we do. We take responsibility for our actions both individually and collectively. We continually strive to improve our processes, skills and knowledge.
Professionalism: We consider ourselves partners with our customers, and as such, dress, behave and communicate in a manner consistent with their expectations and those of their patients, family members, staff, students and the general public.
Service: We seek to meet or exceed our customer's expectations. We actively listen to their concerns, effectively communicate available options and advise them on the best course of action. We respect our customer's decisions and do whatever we can to implement them in a timely and cost effective manner.
People: We realize that our staff and their collective knowledge and experience are our greatest asset. We support their continued growth, education and training, both professionally and personally.
You may contact the Manager of Scientific Instruments, Herb Kramer at 206-685-0306 herbk@uw.edu if you have questions or concerns.
Bone Marrow:
We regret to inform you of our decision to discontinue the manufacture and distribution of all Bone Marrow Transplant Equipment Kit products including, Ball Top Needles, Thomas Needles, Blunt Transfer Needles, Filtering Apparatus, Aspiration Syringes, Beaker Holders, Beakers & Dipsticks. Repair, sharpening and refurbishment services will also no longer be available. It has been our distinguished privilege to provide equipment used in bone marrow transplantation for over 40 years.
Machine Shop:
After over 60 years of service to the University of Washington community, the Scientific Instruments Machine shop has suspended operations as of March 31st 2017. This difficult decision was driven by a variety of changes in the business climate of the University, changes in how technology is used in medicine and research and the changing needs of our customer base. We are in the process of evaluating alternative ways to support our customers. Some services will be taken over by the Biomedical Electronics shop, some referred to other providers on campus and the remaining referred to 3rd party or the manufacturer's service representatives. We will update this webpage as the situation develops.
For repairs of electronic or electro-mechanical devices or projects that do not involve extensive machining, contact:
SI Biomedical Electronics biomed@uw.edu, 206-543-5580
For projects that require extensive machining (milling, turning, welding, etc) please contact one of the following:
Dept of Physiology & Biophysics, Eric Martinson erm@uw.edu, 206-543-0975
Dept. of Physics, Bob Scott bjs24@uw.edu, 206-685-4266
Dept. of Chemistry, Eric Strakbein erics@uw.edu, 206-543-1616
This year's BMET/HTM conference is being held in Houston from April 11th-13th. They promise over 45 hours of education to help keep your certifications current. For more details, please visit the MD Expo website.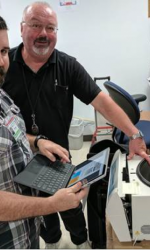 Technicians in Scientific Instruments (SI) have found a way to improve the efficiency and effectiveness of the many facets of their field services. Typically, SI technicians are reliant on their shop environment to accomplishing things like accessing service manuals, transcribing field notes, documenting services in the data base, and ordering parts. Recognizing the potential increase…