HSAS&F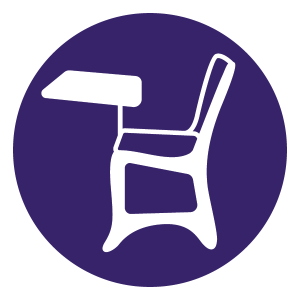 Instructional Support, comprised of Classroom Services and Lab Services, advances the UW mission by delivering proactive support to the teaching and learning environments within the Health Sciences Building and South Campus Center.
The Instructional Support team is driven by customer needs, informed through feedback, and dedicated to fostering innovation. We welcome your input, which is an essential part of our decision-making process when managing service and space updates.
New Service Desk in Classroom Services
Classroom Services staff have made significant progress completing the primary stages of building and implementing a new service desk for reservations and customer support. The office is now using the email address crshelp@uw.edu for all service requests. We anticipate that the new service desk will allow us to better organize and respond to requests and will provide more opportunities for staff to share critical information with customers.
Updated Rate and Policy Model Goes in to Effect Starting September 25, 2019
Instructional Support will transition to a new rate and policy model for requests scheduled on or after September 25, 2019. Information about new rates and policies can be found on our website: https://hsasf.hsa.washington.edu/instructional-support/crs/
Classroom Services staff have sent various emails throughout the year to our customers; detailing the most impactful changes in a statement of impact which can be found on the "Policies and FAQ" page on our website: https://hsasf.hsa.washington.edu/instructional-support/crs/policies/
For questions or concerns related to this transition, please contact crshelp@uw.edu.
General Assignment Spaces Scheduled in Accordance with the Time Schedule Production Calendar
Effective immediately, Classroom Services will no longer take event requests for general assignment spaces prior to the completion of quarterly course scheduling. In the past, Classroom Services could receive these requests and then hold them in a request queue until quarterly course scheduling was complete. With the retirement of RoomQ, there is no longer a mechanism for holding requests in a queue until they are able to be processed. Beginning Autumn Quarter, general assignment spaces will be processed after all courses have been scheduled according to the University's Time Schedule Production Calendar , as courses receive first priority in general assignment rooms. Once quarterly courses have been scheduled, Classroom Services will accept event requests on a first-come, first-served basis. Special event spaces will continue to be processed one year in advance. The event scheduling timeline for the 2019/2020 academic year is as follow:
Autumn Quarter 2019 (Sept. 25 – Jan. 5): ACCEPTING RESERVATIONS NOW
Winter Quarter 2020(Jan. 6 – March 29): Late-October/Early November 2019
Spring Quarter 2020 (March 30 – June 21: Late-January/Early February 2020
Summer Quarter 2020 (June 22 – September 29): Late-February/Early March 2020
To receive notifications regarding specific scheduling dates for events, email crshelp@uw.edu to be added to the event scheduler's listserv.
Check Room Availability in 25Live!
The University has migrated to using 25Live for space tracking across campus. We are working with the Registrar's office to fully configure the software, but it is now possible for anyone with a UW NetID to check the availability of specific rooms through 25Live.
You can access 25Live at https://25live.collegenet.com/washington/ and login with your UW NetID. From there, you can use the location section of the "Quick Search" box or the "Locations" tab to look up a space by room number. Try searching for T479, D209, SOCC 316, or 060. Events scheduled in those rooms will appear as green boxes with the event names visible. No other details about events or classes are visible beyond time and name.
Please be aware that there is a limit to how far out you can see room availability. For general assignment spaces like classrooms or lecture halls, you can't see beyond currently scheduled quarters. For special event spaces, the limit is one year. Once 25Live is fully integrated as a scheduling tool, Instructional Support will provide 25Live training to all users. Stay tuned for more details.
Instructional Support is continually updating the functionality of our teaching and learning spaces.
Training for new and existing installed technology in our teaching spaces is always available, so please reach out to us to access this support!
Summer 2019
The following renovation proposals are slated for Summer 2019:
Complete A/V upgrades in D209
Complete A/V upgrades in A420
Keypads will be added to most A/V booths in existing lecture halls
A/V and/or furniture upgrades in SCC 348, SCC 346, T359, T473, T474/A, T531, T568/574 and T663
Please send on any suggestions you may have for room updates related to Health Sciences/South Campus Center classrooms and event spaces to crshelp@uw.edu
Instructional Support is working with our A/V vendors to resolve ongoing issues in the Health Sciences classroom spaces. Given the complexity of our aging building, these issues can take some time to troubleshoot. We appreciate your patience as we work to find permanent solutions.
Audio functionality is compromised in the following rooms:
T534 – The program audio is ONLY available if you turn the volume all the way up on your computer or the touch panel.
HDMI is not functional in the following rooms (please use VGA in these spaces):
SCC 308 – The HDMI is functioning, but it is a little sensitive. If you adjust it from the wall port, the signal may go in and out.
Other A/V issues:
T360 – Sometimes "combined mode" on the touch panel does not work in this space. To remedy, shut the system down and turn it back on.
T733 – The back touch panel audio will freeze occasionally. Resetting the control processor will fix this. The AV Bridge is also currently not functioning in this room.
T435 – The lighting controls do not currently work from the touch panel.
T439 – Port A for the panel microphones is not functioning. Please use Port B.
T530 – Occasionally the signal to the projector can get lost. Contact Classroom Services to resolve.
T369 – The VGA signal flickers on/off. Use HDMI.
RR 134 – Projector is not functioning; new one will be installed summer of 2019. A temporary projector is currently installed in the room.
With the closure of Consolidated Laundry at the end of March, the UW is in the process of moving to a new vendor for lab coat cleaning. UW Procurement Services is assisting with the transition to an alternate laundry provider (MediCleanse) for laboratories and academic spaces on campus. Departments that relied on Consolidated Laundry for…
You can now sign up for our updated AV Alert platform and stay current on all room problems, work-arounds and resources. To receive alerts in your email, please do the following: Create an account in Regroup: https://washington.regroup.com/signup Join the University of Washington network. Locate the "Instructional Support – AV Alerts" option via the group tab…