HSAS&F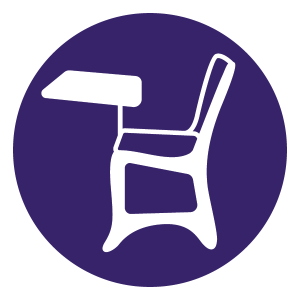 Instructional Support, comprised of Classroom Services and Lab Services, advances the UW mission by delivering proactive support to the teaching and learning environments within the Health Sciences Building and South Campus Center.
The Instructional Support team is driven by customer needs, informed through feedback, and dedicated to fostering innovation. We welcome your input, which is an essential part of our decision-making process when managing service and space updates.
Room Updates
Instructional Support is continually updating the functionality of our teaching and learning spaces. Training for new and existing installed technology in our teaching spaces is always available, so please reach out to us to access this support!
Winter 2019
SOCC 301 (the space previously occupied by the UW Health Sciences Bookstore) received a complete furniture update over the summer. During winter break, SOCC 301 received installed audio-visual equipment, completing the process of converting this large space into a much needed 70-person, flex-use classroom. This room is now compatible with Panopto.
During winter break, GNOMS060 received a full audio-visual refresh.
Summer 2019
The following renovation proposals are slated for Summer 2019. Please send on any suggestions you may have for room updates related to Health Sciences/South Campus Center classrooms and event spaces to hsbrooms@uw.edu
Complete A/V upgrades in D209
Potential conversion of SOCC 303/old hair salon space into a flex-use, active-learning classroom.
Service Updates
In an effort to meet the changing needs of our customers we continually review and update our services. These updates are based on feedback from our customers.
Classroom Marker and Chalk Restocking
In an effort to better align services with upper campus Instructional Support has transition the replenishing of chalk and whiteboard markers to Custodial Services. They will assure all learning spaces are stocked with white chalk, and blue or black whiteboard markers. For questions related to chalk and markers in your area please contact the Care Team at careteam@uw.edu or 206-685-1900.
Meditation and Reflection Space
SCC 322 will continue to be available as a meditation or reflection space MWF from 9:30AM to 1:50PM and T/Th 9:30AM-10:50AM and 12:30PM-1:50PM. For questions, contact hsbrooms@uw.edu or 543-6729.  
Building Services
Notice a light out or room maintenance that needs attention? Facilities Services has introduced their Customer Care Team, the "one-stop-shop" for all custodial, building maintenance, and grounds issues. If you have a request, you can get in touch with them at #206-685-1900, careteam@uw.edu, or the FS WORKS online portal.
Instructional Support's mission is to advance the UW mission by delivering proactive services which cultivate a teaching and learning environment within the Health Sciences Community. Our team is driven by customer needs, informed through feedback, and dedicated to fostering innovation. We welcome your feedback, it is an essential part of making service and space update decisions.
Tonight from 5PM to 7PM we will be performing maintenance on the back end of our website. You may notice some graphical glitches during this time period, those are completely normal. We will be thoroughly checking the site after the maintenance, but if you find a section of the website missing or still displaying problems…
With the closure of Consolidated Laundry at the end of March, the UW is in the process of moving to a new vendor for lab coat cleaning. UW Procurement Services is assisting with the transition to an alternate laundry provider (MediCleanse) for laboratories and academic spaces on campus. Departments that relied on Consolidated Laundry for…
You can now sign up for our updated AV Alert platform and stay current on all room problems, work-arounds and resources. To receive alerts in your email, please do the following: Create an account in Regroup: https://washington.regroup.com/signup Join the University of Washington network. Locate the "Instructional Support – AV Alerts" option via the group tab…