HSAS&F
March 4, 2019
Building Notifications
BMO provides various types of notifications to building occupants in Health Sciences, WH Foege, and SCC. These include utility shutdowns, construction updates, and outside obstructions/changes affecting traffic. If you are not currently receiving notifications, contact HS Building Management:  hsbuild@uw.edu. Include your wing/floor location in the email  so we can add your information to our notifications…
---
Updated AV Alert Group
You can now sign up for our updated AV Alert platform and stay current on all room problems, work-arounds and resources. To receive alerts in your email, please do the following: Create an account in Regroup: https://washington.regroup.com/signup Join the University of Washington network. Locate the "Instructional Support – AV Alerts" option via the group tab…
---
New Building Services Coordinator in Classroom Services
Instructional Support would like to welcome Patrick Arroyo as our new Building Services Coordinator! Patrick is a recent graduate from the University of Montana with a degree in economics and has previous experience providing administrative support at medical and research institutions. Patrick brings a keen intellect, a diligent and hard-working attitude, and wry sense of…
---
January 24, 2019
Welcome to 2019
Happy new year and welcome back Huskies! I hope everyone is having a wonderful start to their new year and semester. Our department has kicked off the year with a good start. I'm very glad to report that the Director's Office of Health Sciences Academic Services & Facilities (HSAS&F) is fully staffed, finally! I'd like to…
---
September 26, 2018
Kick off to 2018-2019!
Welcome back to campus for the exciting academic year that lay ahead.  As the weather turns chilly and more than 3,800 student prepare for another year in the Health Sciences complex, our Health Sciences Academic Services & Facilities team (HSAS&F) has been gearing-up to best serve our student, staff and faculty community. Over the summer,…
---
September 21, 2017
TOGETHER WE WILL…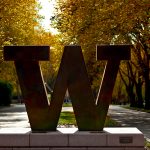 Welcome to the 2017-18 Academic Year! Autumn '17 ushers in the first Health Sciences general assignment classroom designed to facilitate active learning. Located in the South Campus Center, the classroom seats 120 students at 15 tables equipped with power and data connections. Adaptive flexibility includes an AV bridge agnostic to conferencing software, video capture, and…
---
August 11, 2017
Using Technology to Improve the Work Environment Goes Deeper Than the Surface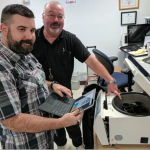 Technicians in Scientific Instruments (SI) have found a way to improve the efficiency and effectiveness of the many facets of their field services. Typically, SI technicians are reliant on their shop environment to accomplishing things like accessing service manuals, transcribing field notes, documenting services in the data base, and ordering parts. Recognizing the potential increase…
---
August 3, 2017
Active Learning Classroom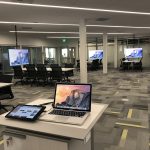 Health Sciences Academic Services & Facilities is very excited to have launched an Active Learning Classroom (ALC) in 2017, located in the South Campus Center, room 221. This room pilot project was sponsored by Health Sciences Administration in collaboration with the Health Sciences Schools. The ALC has capacity for 120 students; sitting at fixed tables,…
---
April 3, 2017
Provider Bios Portraits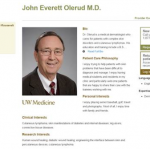 Visual Design & Production is partnering with UW Medicine Strategic Marketing & Communications to get complete online profiles of UW Medicine providers in the next few months.
---
January 26, 2017
Health Sciences IT Forum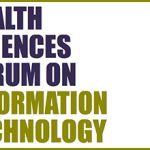 Health Sciences IT Services: Who we are and what we can do for the computing needs of the greater Health Sciences community. A short presentation followed by a QA session.
---
Next page